As we usher in the new year, AISL has officially published its 2022/23 Annual Report. In the report, we look back on our achievements in the past year and look forward to a promising future, while sharing all the projects to which AISL has been fortifying its commitment across Asia and China.
With these initiatives, the group is setting new benchmarks in international education, allowing more students to thrive from holistic development and achieve Educational Excellence for Life and Leadership.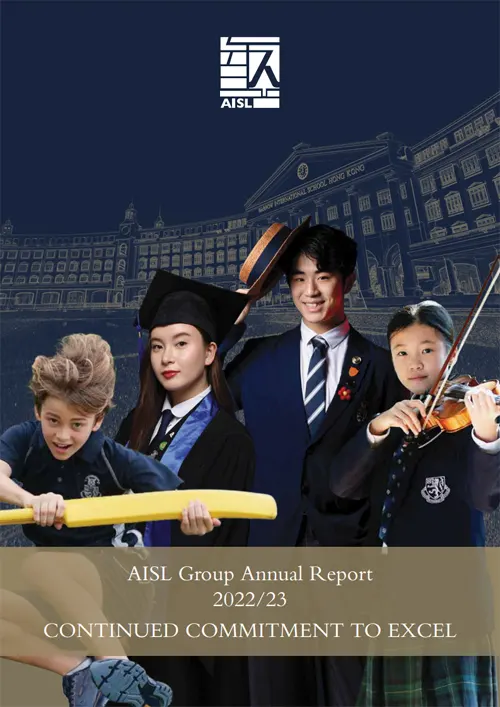 Click here to view the 2022/23 Annual Report.
---
Throughout our development over the past 25 years, AISL has always boasted a forward-looking spirit to innovate while upholding our commitment to educational excellence, cultivating talents for tomorrow. As the first AISL Harrow Schools in Asia, the Harrow International School Bangkok celebrated its 25th anniversary this year. AISL set foot in mainland China with the opening of AISL Harrow Beijing in 2005 and this progressive move marked the beginning of its leadership of schooling excellence in the thriving Chinese market. Following the opening of Harrow International School Hong Kong in 2012, the Group saw rapid expansion throughout key cities in mainland China, including the recent establishment of flagship schools in the Greater Bay Area of China and other international education landmarks.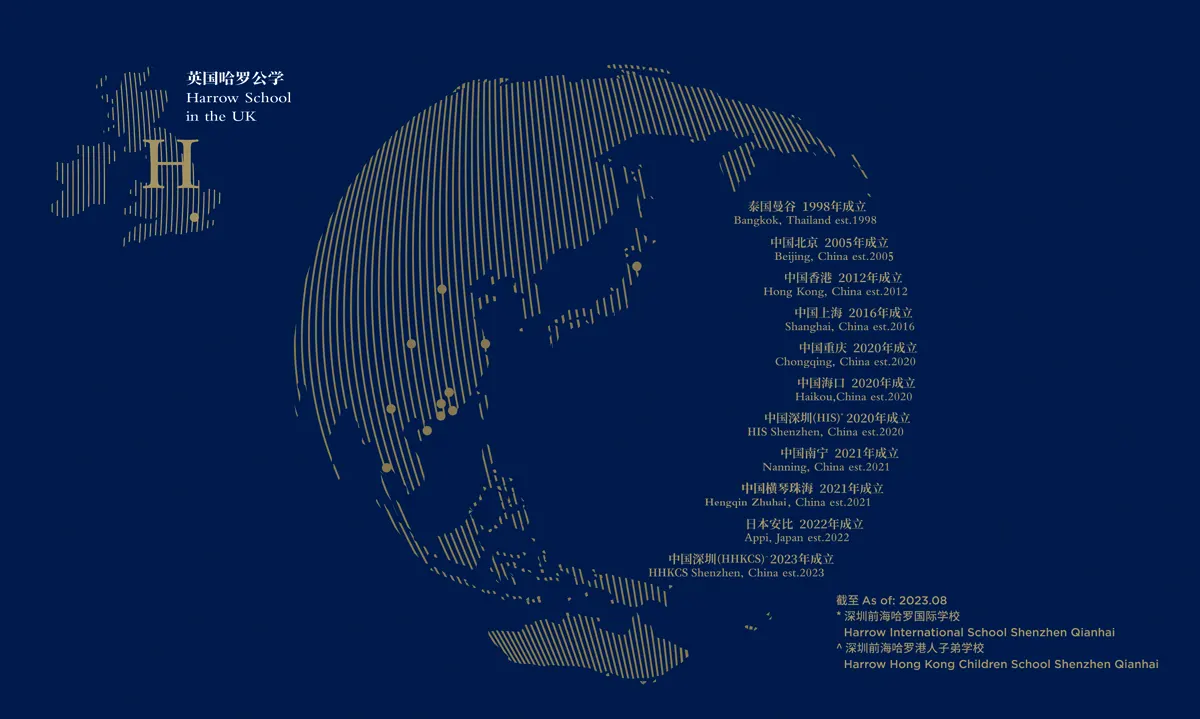 Gifted by the close partnership with Harrow School in the UK, AISL has had the privilege to progressively further its presence in China and other markets, with firm assurance of education and operations quality, as demonstrated through the widely recognised AISL Family of Schools. In the 2022/23 academic year, the Group admitted over 2,000 new students, with over 7,000 students currently enrolled, and nearly 2,000 staff members. The outstanding achievements of the students speaks for AISL in many facets - the graduating class of 2023 received nearly 900 admission offers from top universities worldwide, including 23 from Oxbridge, and 17 from Ivy League universities. These remarkable feats, contributed by each and every AISL Harrow School, have garnered much acclaim and recognition from students, parents, and the industry experts internationally.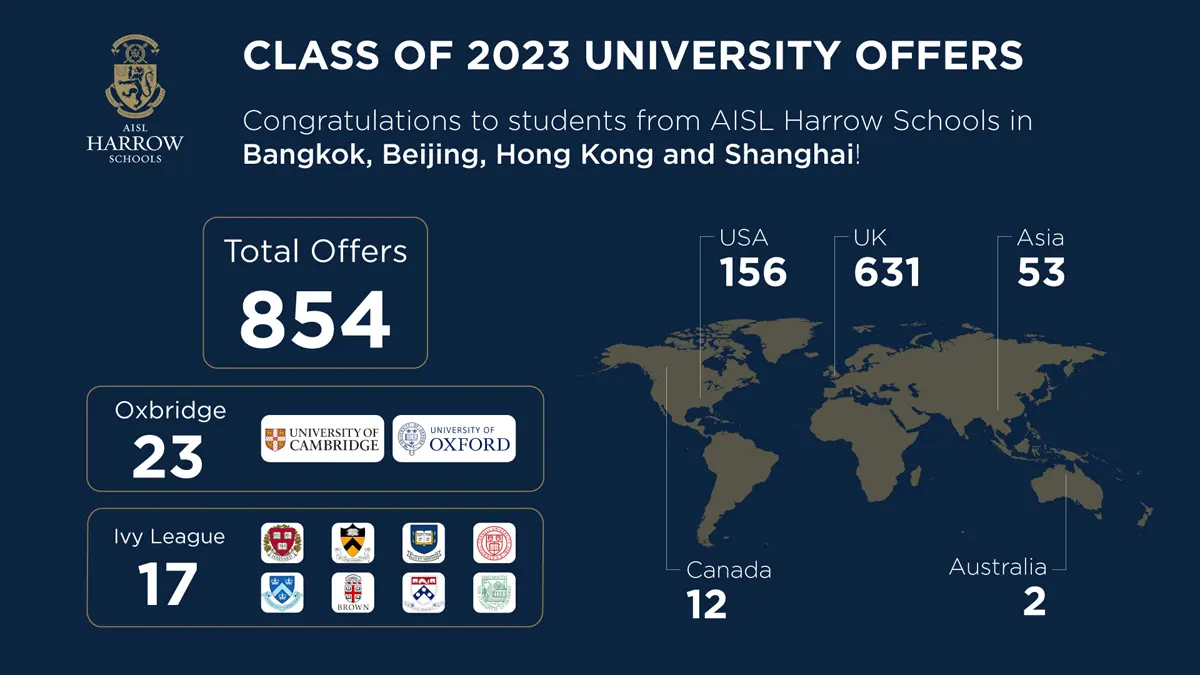 Continued Commitment to Excel
Looking ahead, AISL will continue to uphold the pursuit of educational excellence with additional upgrades in multiple areas, fostering an enhanced and even more personalised educational experience for all.
AISL is consistently refining education offerings and its quality, which are always parents' top concerns. AISL will continue to offer a diverse range of curriculums (British, bilingual, and Hong Kong) and multiple pathways for further education (A Level, DSE, IB). The Group seeks to further strengthen its advantage in the quality of top educators with the global recruitment of exceptional teachers to ensure the highest quality of teaching possible. Through AISL Academy, teachers are supported with professional development opportunities and resources, ensuring the Group stays at the forefront of industry innovations and learning. In addition, AISL is well equipped for the digital era having adopted advanced technology platforms in its teaching to develop students' digital skills for future success.
To enhance teaching and learning, AISL will take additional steps to strengthen strategic partnerships and resource sharing. Apart from maintaining its close partnership with Harrow School in the UK to uphold world-class educational standards, AISL will continue to expand its presence through constructive collaborations, including forming a strategic partnership with AISL Outdoor to provide enriched and diverse educational offerings, imparting sustainable development of the education industry through AISL Mall, allying with industry leaders at both the Group and school level, e.g. Harrow Hong Kong Children School Shenzhen Qianhai has formed a strategic alliance with The University of Hong Kong, St. Paul's Co-educational College, Tencent, DJI, and other leaders within education.
Another focus of AISL is to improve parental satisfaction and involvement. The Group prioritises communication with parents and will further reinforce the collaboration between home and school. A host of school and community activities are in the pipeline to foster a close-knit Harrow community and allow parents to participate in their children's growth.
The Group plans to further scale up its student enrolment and its 12 schools in Asia have already been recruiting for the upcoming academic year. Of special note is the newly opened Harrow Hong Kong Children School Shenzhen Qianhai, which has already welcomed nearly 300 founding students in its first school term, demonstrating great potential for the future.
In the annual report, AISL firmly reiterates its commitment to its corporate social responsibilities, with two key initiatives that best demonstrate the Group's unwavering dedication to the delivery of 'Educational Excellence for Life and Leadership'. Firstly, the Group founded the AISL Harrow Scholarships Foundation, which operates the AISL Harrow Scholarships. With increased scholarship quotas and financial support, more outstanding students from around the world will benefit from the opportunity to study at AISL Harrow Schools.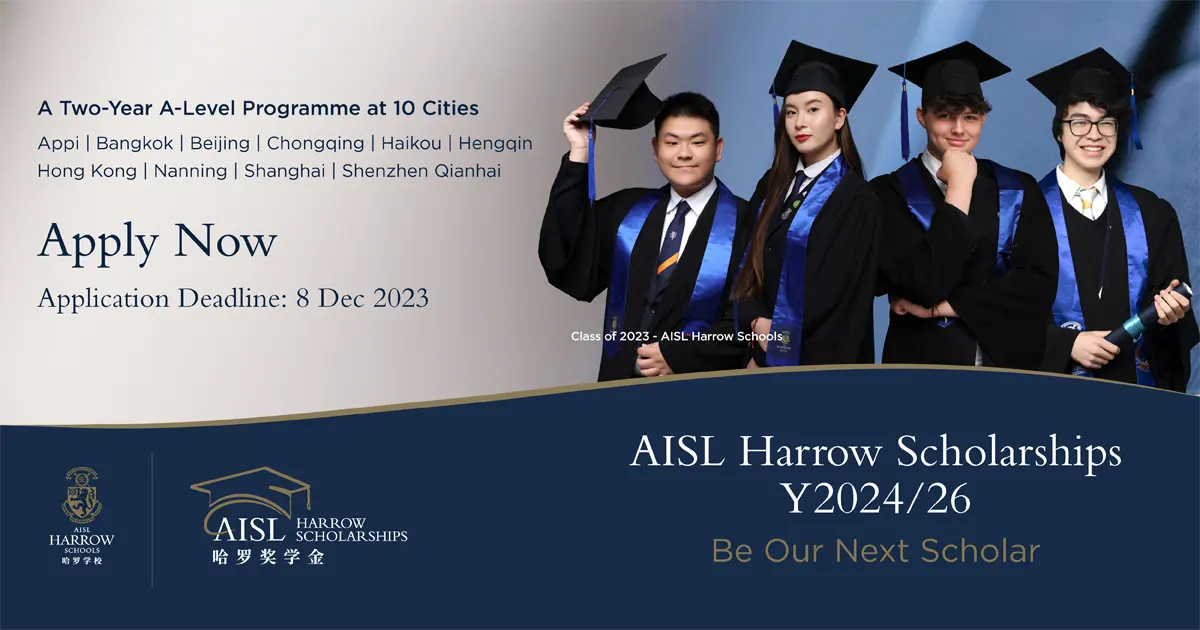 Secondly, the Group will proactively develop ESG strategies and policies, implementing energy-saving and carbon reducing concepts in daily campus operations to create a safe, fair and inclusive environment for students and staff and at the same time raise their awareness of ESG through various volunteering opportunities.
Embracing the New Era: Limitless Possibilities Await
Only through adaptable and enduring education can we nurture future leaders with strong psychological qualities. Chairman Dr Rosanna Wong, DBE, JP commented: 'We are set to invigorate a culture of excellence in education that is clearly understood by all our schools in a shared mission and passion, as well as something that genuinely reflects our motto of "Educational Excellence for Life and Leadership" that can stand the test of time in our holistic approach to education.'
Despite the challenges and opportunities, AISL remains dedicated to providing an exceptional Harrow education to local students in China and Asia. With a passion for the education industry, AISL seizes opportunities, stays grounded, explores new frontiers, and aims to set a new benchmark in international education.